Researchers from Pennsylvania used 3D printing and computer-aided intraoperative navigation to separate a pair of infant twins whose heads were fused together since birth, according to a report recently published online in the New England Journal of Medicine.
The craniopagus conjoined twins were linked at the top of their heads, with their connection extending deep into the brain. Surgically separating twins who share a superior sagittal sinus — a venous structure at the top of the skull — is associated with mortality rates as high as 25%, and there have been few changes to separation techniques since the first successful surgery of its kind was reported in 1957, wrote lead author Dr. Gregory Heuer, PhD, and colleagues from the Children's Hospital of Philadelphia and the University of Pennsylvania.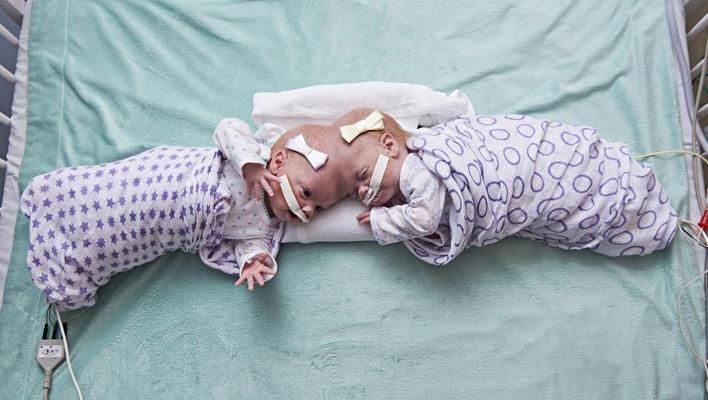 To improve upon the safety of this procedure, the group acquired brain MRI scans of the twins and used them to create 3D-printed models for presurgical planning of the twins' surgical separation (NEJM, January 24, 2019, Vol. 380, pp. 358-364).
Examining the 3D-printed model also allowed the clinicians to develop a custom-made external distraction device, which they used to generate 1 mm to 2 mm of separation per day between the twins over the course of several weeks. For the final phase of the procedure, the clinicians used computer-aided intraoperative navigation to display a map of critical venous structures as they performed surgery.
Follow-up MRI exams taken nine months after the surgery revealed cranial defects on the twin who received less of the venous structure, but the patients have otherwise recovered and are developing well, according to the researchers.
"Combining [intraoperative navigation] use with a computer-aided design and modeling (based on a three-dimensional printed model) in a case of a craniopagus twins provided essential information about their anatomy at every stage of planning and surgery," they wrote.
Source: 3D printing helps separate rare case of conjoined twins